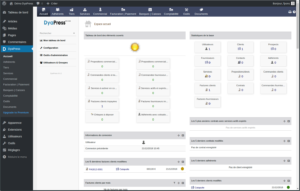 DyaPress is a service that allow a connection of a website to an existing CRM/ERP software in order to digitialize a company and/or to sell services online. The following open-source CRM/ERP software can be used :
DyaPress plugin for WordPress ;
Dolibarr(tm) software.
The DyaPress free open-source version and premium version are software edited by Aytechnet SARL, Le Cayla, 15600 Leynhac, France.
Open-source plugins
There currently only DyaPress available, more plugins will be available.
DyaPress is a plugin which offer CRM/ERP functionnalities from the admin area of WordPress. This plugin is the port to Wordress of the existing CRM/ERP software Dolibarr(tm). It is like having Dolibarr(tm) inside WordPress admin.
This software has been designed to offer easier installation and easier upgrade from WordPress admin page. You only need to click to "Install" or "Upgrade" like any other WordPress plugin.
DyaPress Premium
The upcoming DyaPress Premium will allow you to digitize your activity. Therefore you will be also able to sell online your own services. DyaPress Premium provides all the necessary technical layer. Your customers will be able to consult their proposals. Their will be even able to pay their invoices directly on your website using their card. Here is some more detailed description of DyaPress Premium  :
Your CRM/ERP software will be automatically and immediately synchronized with the actions of your customer. For instance if a customer orders and pay a service on your website then an order and an invoice marked as paid will be generated automatically in your CRM/ERP ;
Your website will have a "My account" page for its users. It will be possible for them to consult theirs proposals or to pay their invoice on your own website !
For DyaPress Premium to work, you need an active and functional installation of DyaPress  or Dolibarr(tm) software with a REST API activated.
Once the first version DyaPress Premium will be finished, its download link will be available. Meanwhile you can purchase licence at a special discount rate of 50% while it is not yet available.