If you are already using Dolibarr(tm) you need to register your Dolibarr installation with DyaPress Premium.
If you do not have installated Dolibarr and you do not want to use DyaPress ERP/CRM you need to install Dolibarr but please keep in mind your Dolibarr installation must be available to DyaPress Premium, so you need to install REST API module and make sure the REST API URL is available via Internet. You may protect API access to the only IP used by DyaPress Premium if needed, in such case please contact us directly.
You are strongly encouraged to enable SSL/TLS encryption for Dolibarr before using DyaPress Premium.
Keep in mind you may need two distinct installation of Dolibarr : one for production and one for testing.
For registering your Dolibarr installation, you first need an account on DyaPress website, you can purchase tokens directly or register using the form below :
Once your account is created, you need to go Registration tab :

Just type in the API REST URL given in Dolibarr REST API configuration you will find in Setup > Modules/Applications and search for sections Interfaces with external systems :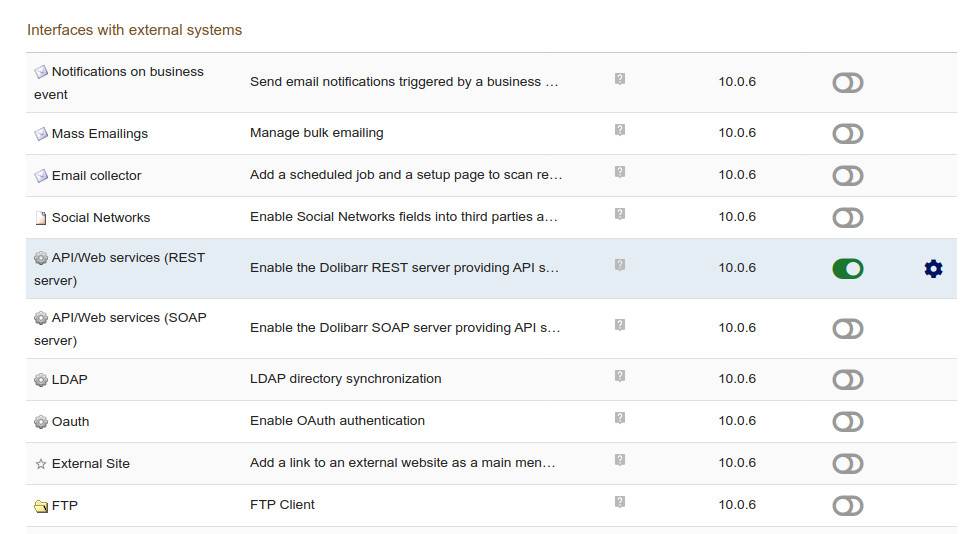 In the example above, the REST API Url is http://example.com/api/index.php where you can remove /explorer or /login?xxx from the two URLs given.
The modules needed for DyaPress Premium are listed in the previous documentation for configuring DyaPress ERP/CRM.